Welcome to the Gescheit Family Tree.
Last modified: 18 June 2018
CONTENTS
INTRODUCTION - by Robert Gescheit
EXPLANATORY NOTES
HISTORY OF OUR TREE
JOZSEF and PAULA GESCHEIT
KALMAN and CILI GESCHEIT
OTHER CONTRIBUTORS
GO DIRECT TO OUR FAMILY TREE - CLICK HERE.
---
Welcome to all family members visiting this page. If you have stumbled across our family tree page by doing a 'search' on your OWN surname....welcome - we could be related!
If you are interested in making contact, just email me at:- robert@gescheit.com or gescheit@bigpond.net.au , or call me in Australia +61 (0) 418 266487 (cell phone)
ALL CONTRIBUTIONS AND/OR CORRECTIONS FROM FAMILY MEMBERS WILL BE MOST WELCOME.
---
EXPLANATORY NOTES TO THE FAMILY TREE
- There are 8 generations listed on the descending tree.
- Each generation is indented, and numbered from 1 to 7.
- Abbreviations used are: 'b' for birth date, 'd' for date of death, 'm' for marriage date.
- A '+' sign denotes a marriage to the person after the sign, and their children appear directly underneath.
- If a maiden name is not known, the married name is listed in brackets.
- If a first name is not known, it is listed as 'Unknown' or 'Boy' or 'Girl'.


---
A large part of the family tree was compiled by MILDRED SHULTZ, whose mother, HELEN HAYES (nee GESCHEIT), set the ground work for the tree in the early 1900's.
SHMUEL (Mitza) GESCHEIT compiled the descendants of his grandfather SAMU (MICHAEL) GESCHEIT (b.September 8, 1871).
OLGA 'PICI' SUNSHINE (nee GESCHEIT) in New York, supplied valuable information, and created the inspiration and motivation in the early 1990's to collate, update and continue the tree.
SANDOR 'SHANYI' ULLMANN, whose mother was MARGIT ULLMANN (nee GESCHEIT) (1896-1944), also collated a lot of the information from a wide variety of sources. Coincidentally, his great grandfather Rabbi FRIGYES SHALOM ULLMANN officiated at the wedding of his mother's grandparents, JACOB and LINA GESCHEIT in 1864. Their NUPTUAL AGREEMENT/marriage contract can be accessed by clicking on the heading below.
Some names and birth dates were obtained from JOZSEF GESCHEIT, (son of Jacob and Lina Gescheit),who found them in personal notes in his late mother's prayer book. Parts of Lina Gescheit's wedding dress are held by Pici Sunshine, and now Margie Weil.
---
Both Jozsef Gescheit and his wife Paula (nee BAROK) were slaughtered by the Nazis in the Holocaust in Auschwitz in 1944. The official date of their death, according to Yad Vashem records, is June 15, 1944.
Over 100 other Gescheit family members also perished in the Shoah (Holocaust).
A Memorial Page has been set up at the following website : https://gescheit.tripod.com/memorial.html

JOZSEF GESCHEIT
AUGUST 31, 1869 - JUNE 1944

PAULA GESCHEIT
circa 1873 - JUNE 1944
JOZSEF GESCHEIT was born in Putnok, Hungary on the 31st August, 1869. He lived and raised his family in Salgotarjan, Hungary. His occupation included innkeeper, grocer, local transportation (furniture, wares, etc.) and wholesale merchant in animal feed. He had wagons and buggies, and kept horses, cows and other animals of all sorts. He was 75 years old when he was killed by the Nazis.
PAULA GESCHEIT (nee BAROK) was born in Salgotarjan, Hungary in 1873. She was 71 years old when killed by the Nazis in 1944. She and Jozsef raised 3 sons KALMAN, SAMUEL AND JENO, and 7 daughters MARGIT, KIS MARGIT (adopted), BOZSI, IRENE, YOLI, GIZA and PICI.
---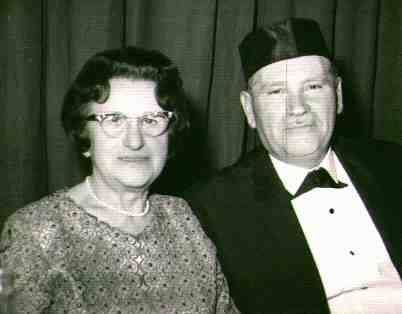 Having survived the horrors of the Holocaust, Kalman and Cilica Gescheit set about rebuilding their lives by ensuring that their family unit stayed together after the war.
They emigrated to Australia in the early 1950's with their 4 sons, who also miraculously survived. They were Sanyi, Laci, Imre and Bandi. They all settled in Melbourne, Victoria.
Being devout Jews, Kalman and Cilica continued their orthodox way of life, providing a shining example for the rest of their family. A weekly gathering of the whole family at their home became a tradition on Friday afternoons, before the sabbath. Cilica always made certain that there was sufficient 'nourishment' for every member of the family - adults, children, grandchildren and great-grandchildren. She was quite an accomplished cook, and conducted a small business from home baking cakes for barmitzvahs and weddings.
Kalman was always a gentle soul, and soon after arriving in Australia, he managed to get employment at the General Motors Holden (G.M.H.) assembly plant. He worked there till his retirement, and funnily enough never actually obtained a driver's license. He didn't need one because he never owned, or drove a car!
Family gatherings on Jewish festival days were normal occurences, and it was not uncommon for them to entertain (and feed) 20-30 people at a time. Visitors, of course, were always welcome. Their fervent religious beliefs were widely known, and they were highly respected in the Jewish community. Even in ill health, Kalman and Cilica never lost sight of their convictions.
They remained a loving, married couple for over 70 years until Kalman passed away at the age of 90 after a short illness. Cilica fell ill several years later, and passed away shortly before her 95th birthday in 1996.
Kalman Gescheit: November 25, 1900 - October 27, 1990
Cilica Gescheit: December 25, 1901 - October 17, 1996

FOOTNOTE:
Having visited his grandfather in hospital shortly before his death, the writer recalls a humourous scene on a Friday afternoon, before the sabbath. It is customary on Friday evenings to make a blessing and drink some wine. Because of his grandfather's predicament, the writer decided to take some wine and a few small cups into the hospital so that Kalman could say the relevant prayers and drink some wine, as he would normally have done if he was at home.
As the writer was leaving the hospital room, with his bottle of wine, he spotted another relative approaching his grandfather's room. After the usual pleasantries, they parted in the hospital corridor, but the writer noticed that the new visitor ALSO had a bottle of wine, and cups, half hidden under his arm!
The last fond memory the writer has of his grandfather is the vision of his grandfather that Friday afternoon - drinking numerous small cups of wine, at different times during the afternoon, with many well-meaning relatives who had no idea that others were doing the same thing! Kalman must have had a ball.
---
STEWART ULLMANN, in Michigan, U.S.A., (son of Sandor and Irene Ullmann), sifted
through much of the information, and placed it on a computer program. This allows
easy viewing of the many branches of the family tree which is now up to 8
generations.
ROBERT GESCHEIT, in Sydney, Australia, (son of Imre and Ica Gescheit), prepared and
updated the Australian branch of the tree, and also has the entire family tree on
computer. This is available to anyone who wants it.
Stewart and Robert welcome any new information that becomes available, and any
updates will be posted onto this website.
---
MARRIAGE CONTRACT of Jacob and Lina Gescheit - 1864
Click on the above heading to view the entire marital agreement.
---
CLICK HERE to go back to THE GESCHEIT FAMILY HOMEPAGE
---
Copyright © 1997-2016
This site created and maintained by Robert Gescheit
robert@gescheit.com